Over the weekend ..... the weekend is over.....
Weekend's over again and here I am tired from all the kitchen activity… yes, I do get tired especially when I have to make extra trips to the store to buy missing ingredients for the dish I'm preparing. Anyway, I started the day with my Egg and Shrimp Fried Rice which I seasoned with Kikkoman soy sauce and garlic chili plus the green peas, shrimps, egg and steamed white rice on canola oil.
Then I cooked kare-kare using only two kinds of veggies because that's all we have in the fridge and with just beef stew cuts and honeycomb tripe. But it's a dish I can manipulate with fewer ingredients. As long as there's bagoong alamang or the shrimp paste to serve it with, we're good to go.
Then I finally worked on my pork ribs which I massaged with dry ingredients and refrigerated last night. I made spicy pineapple sauce for the ribs and it was yummy. My pork ribs were super tender, almost falling off the bone but I got sidetracked and didn't have time to make my roasted garlic mashed potatoes and gravy. Here's the recipe for my
Spicy Pineapple Pork Ribs
For the dry rub you need the following:
2 tbsp paprika
2 tsp salt
2 tsp cayenne
2 tsp ground black pepper
2 tsp onion powder
2 tsp garlic powder
3 tbsp brown sugar
Directions:
Mix everything thoroughly and massage the ribs thoroughly with the dry rub
Wrap in plastic or saran wrap and refrigerate overnight
Meanwhile, mix the spicy pineapple sauce using:
1 cup pineapple juice
1 cup crushed pineapple
1 cup brown sugar
1/2 cup spicy ketchup or tomato ketchup
1 tbsp chili flakes
In a medium sauce pan, mix all these together and bring
to a boil till it reduces to a bottled barbecue sauce consistency
Pre heat oven to 250 degrees and bake the ribs meaty side face down
and covered with aluminum foil for an hour
Take the ribs out and brush generously with prepared spicy pineapple sauce
Increase the temperature to 350, put the lid back and bake for another forty five minutes
Take out the ribs and flip to spread sauce on the other side
Put the lid back and bake for another 45 minutes
For the final step, take out the ribs again, brush geneously with more sauce,
adjust the rack closer to the burner, turn on the broiler and broil till sauce caramelizes
You can brush more sauce, just keep an eye on it because it will burn easily because of the sugar content.
It really takes patience but your ribs will be really tender, almost falling off the bone.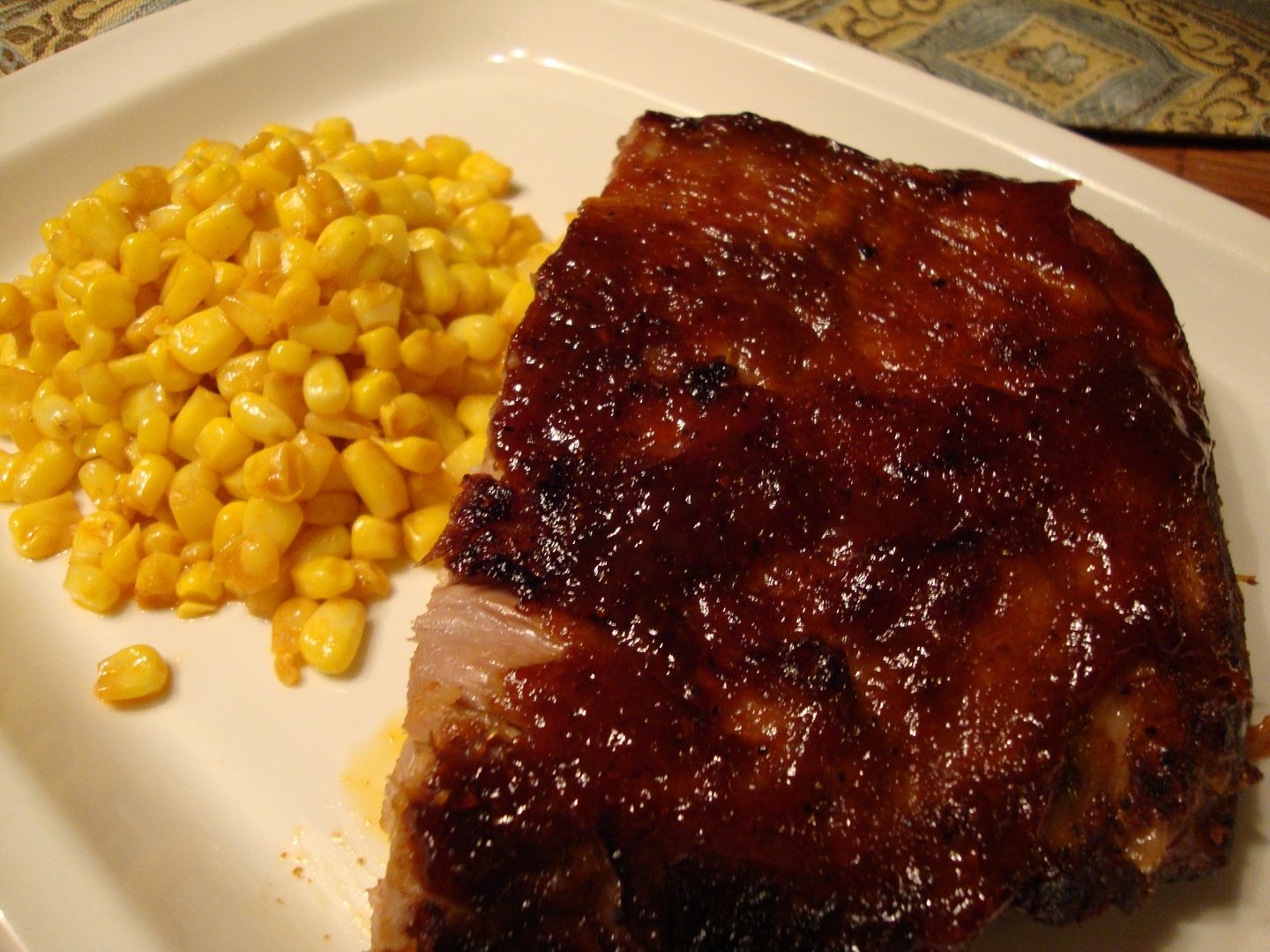 I may have missed making my mashed potatoes and cole slaw but I have a surprise dessert dish which I didn't even plan on making. I saw rainbow tapioca pearls at the store and suddenly, I wanted to make bananas and tapioca pearls in coconut milk with jackfruit.
Here's my recipe
Bananas & Tapioca Pearls in Coconut Milk
Ingredients:
8 pieces burro bananas sliced
1 can jackfruit, drained and sliced into strips
2 cans coconut milk- I use Mae Ploy
1 cup granulated sugar
a pinch of salt
1 pkg rainbow tapioca pearls which I boiled till soft separately
Directions:
Pour the coconut milk in a medium soup pot
Add the sugar and salt and simmer, stirring occasionally
Add the jackfruit and continue stirring for 10 minutes
Add the bananas and cook for another 13 minutes or till bananas become golden yellow
Add the softened tapioca pearls
If you feel it is too thick, you can add a cup of water and just stir well.
I used McCormick Purple Yam food color and flavoring to make it purple and to have the purple yam flavor. Enjoy!

It was delicious- and was gone too fast that I had to make another pot. I had to rush to the grocery store to get more ingredients and this time, I added mochi balls and purple sweet potatoes. I reserved a big container for my friends at work as soon as it was ready. I wanted to surprise my El Salvadorian friend who loves this dessert. So the weekend went by so fast and could not complain if only my homeboys didn't lose but oh well…. Why do I have a bad feeling about them…. Are we going to repeat?