The somewhat healthy eating phase
It's not a New Year's resolution. Didn't I say I don't have any? It's a phase in a cycle of eating habits that goes from bad to good and back; from careless to healthy or should I say- somewhat healthy. Greens, grains, fibers, white meat, fish and fruits make up the whole repertoire. It doesn't mean I'll stop making stuff that titillates the mouth if only to satisfy the urge to cook or bake to share and to please.
So breakfast is back to three choices: oatmeal, cereal, fruit and yogurt when pressed for time. At home on weekends can be more creative- vegetable frittata or egg white omelet with tofu and fresh herbs. Salad is the star of the hour and can be at the center stage for lunch stretching till dinner.
I love pasta so I'm not totally avoiding it. In fact, for dinner I just made some but I made sure it's whole wheat and it's loaded with fresh vegetables. I added spicy chicken sausage slices and grated fresh Parmesan cheese for more flavors. I oven roasted zucchini, bell pepper, sweet onion, mini heirloom tomatoes and button mushrooms and just tossed them with the pasta with just the natural juices of the veggies and garlic olive oil giving moisture to the dish. This is Pasta Primavera Plus because of the addition of the chicken sausage.
Pasta Primavera Plus
Sausage and Roasted Vegetable Penne
1 large Hawaiian sweet onion, cut into wedges
6 medium zucchini, cut lengthwise then chopped into bite-size pieces
1 large red bell pepper, diced
1/2 lb button mushrooms, sliced
1/4 cup olive oil, divided
Kosher salt and freshly ground black pepper
1/2 pint mini heirloom tomatoes, halved
1 pkg spicy chicken sausages, sliced
1 pkg whole-grain penne rigate, (make sure to reserve 1/2 cup pasta water)
Preheat the oven to 375 degrees F.
In a bowl, toss all the vegetables, except the tomatoes, with half of the olive oil, salt and pepper. Transfer to a baking sheet or Pyrex dish and roast for about 30 minutes, occasionally tossing the vegetables. In another bowl, toss together the heirloom tomatoes, a little salt and black pepper and the remaining olive oil then add to the the rest of the vegetables halfway through roasting.
Meanwhile, heat a tablespoon of oil in a large skillet over medium heat. Add the sausage and saute until cooked through. Add the vegetables and the pasta and toss together. The vegetables should have juices in the pan which will moisten the pasta. Add the pasta water if needed. Serve with freshly grated Parmesan cheese.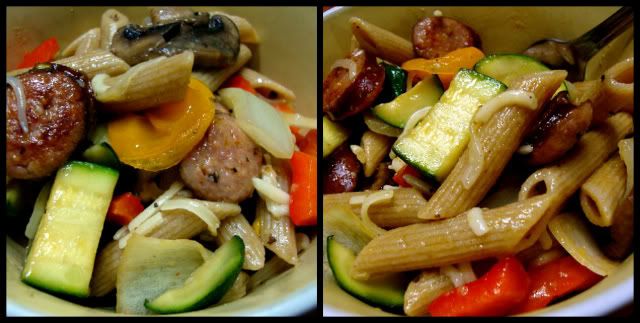 I'm bringing this pasta to work tomorrow with my broccoli slaw. Too bad I didn't take any picture. It's time to feed my GP's. Yesterday was Jen's turn with her vegetarian chili and cheesy sweet corn bread. Healthy or not, we share, we feed, we please!