Encore! Lettuce wraps...
After the little break we had from fish and chicken with the beef and veggie lettuce wraps for dinner last night, we are back to the somewhat healthy track. Lettuce wraps again which turned into dinner instead of merely an appetizer. Don't you ever go through that phase after eating something really tasty? It feels like you want to eat the same thing again; try it in different ways until something new takes you to another food trip.
So we had an encore sort of tonight and this time, I used ground turkey. I made a couple of changes too like using jicama instead of water chestnuts. Well actually, it's because I'm out of water chestnuts. Jicama has become a semi-regular in our fruit basket (although it's not really a fruit) and solely for salad purposes. I love it with cucumber and chopped Romaine lettuce with my Dijon-lemon dressing. The perfect accompaniment to grilled fish or chicken breast. It will provide that crunch which is vital to the dish and I used chopped cilantro for good measure.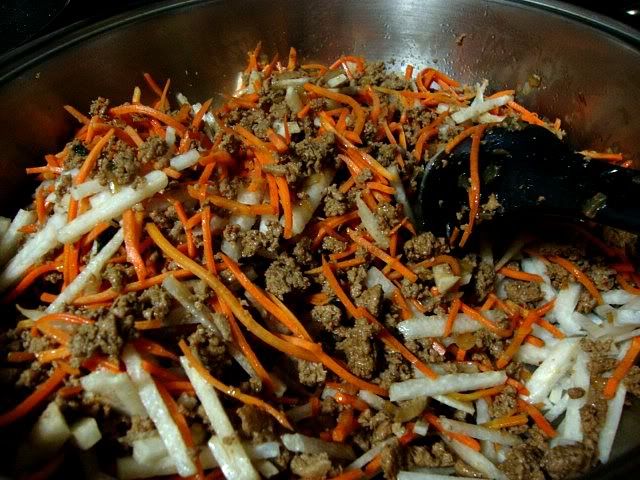 Whoa, it tastes even better than what we had last night. I always think of turkey as bland but with the right spices and herbs, it tastes so good and the cilantro gives that fresh taste that it's hard to stop eating wrap after wrap after wrap ...
This is the bomb! Still didn't have butter lettuce and used iceberg lettuce so there's more room for the filling. K asked me what we serve it with because this is supposedly an appetizer- and I told her nothing. It is already a complete meal for me.