Hello 2012!
I did it again!
I know... late... but honestly, I wrote something on New Year's Eve which goes like this....
We'll soon bid 2011 adieu- in a few hours in fact and I'm so relieved that I'm done with my kitchen chores. I will post pictures later. For now I just want to reflect on what happened during the year. Still a good one despite some rough sails and if I am to think about other people who were victims of natural calamities which hit different places, ruined properties and claimed the lives of so many people- I am blessed!

We have a short NBA season- 66 games due to the lockout. I felt bad when LO was traded but I'm okay now. I have to get used to our new boys in the team but the good thing is they're starting to jell. Coach MB has his hands full and hopefully he could take my homeboys to the finals.

I have no resolutions for the New Year. Let me just say I hope to share more cooking and baking and be better and improve at it.
That was around ten o'clock, done while I was supposed to be resting after the flurry of activity in the kitchen. And then for some reason I stopped and thought about swinging by my favorite KDrama website. Just to check what's hot and stuff. I got curious with one and started it and as what happened before, got hooked until I came to episode 27 when it keeps buffering which I hate so much. It was probably an omen. Stop right there! So I snooped around the drama thread. Rants all over the place. I got some advice to stop. And I did. So I'm back here where at least- I have control :-) I don't know how else to put it. Suffice to say, I am boldly making a promise not to be lured again.... ha ha wonder until when? But for now, I have so much to share with you again.
Sweet gifts from abroad- I got a sizable bag of goodies for Christmas. A Toblerone, Milka in four flavors, Werther's Original milk chocolate bars, some cute little stuff from Korea and Nutella's answer to Yan-Yan.
Answered Christmas Wish List
I've been using the oven broiler for my crème brulee and it works but I still want the real deal. It has been on my wish list for a long time and getting it for Christmas is an answered prayer. The bestseller paperback "The Help" from C and the Zojirushi steel mug from K are welcome bonuses.
And the stuff I made for New Year
Beef Roulade Pinoy Style or Morcon
The taste is definitely there. Tender beef flank steak filled with bacon, sausage, boiled eggs, pickles, cheddar cheese and carrots then rolled and tied with a string to bind the roll together. I dredged the rolls in flour before browning them; poured beef stock with more carrots and celery sticks and into the oven they baked slowly for two hours. Then I made the sauce from the drippings and the stock by adding tomato sauce and just let it thicken with the rolls in a big wok. They should have been prettier but it was difficult trying to hold them together because the meat keeps tearing in the middle. But it was delicious!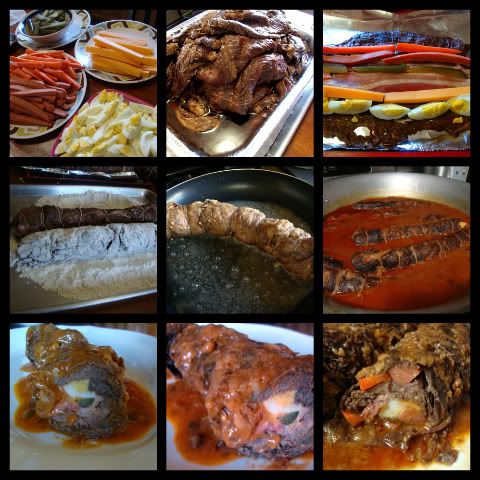 I was surprised that my family wants ceviche for New Year's Eve but who am I to refuse when everything's ready, chopped and all? All I had to do is put everything together- chopped tomatoes, cucumbers, imitation crab meat, shrimp, cilantro, Serrano chili and juices of limes, oranges and lemons topped with chopped avocados served with tortilla chips.
For the dessert, I made double chocolate bread pudding which is butter rolls soaked in chocolate custard, topped with dark chocolate chips and baked in a bain marie.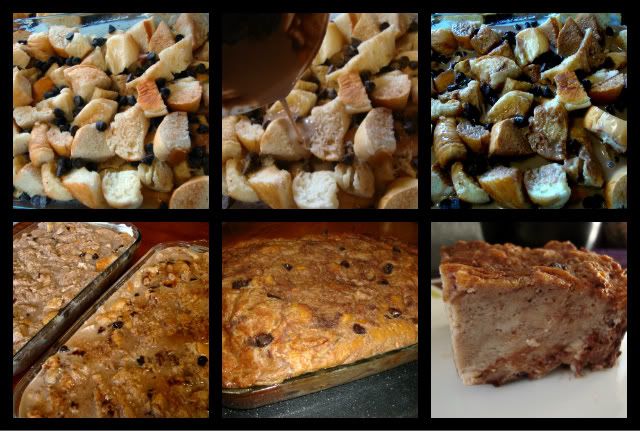 There was so much food in the table because until now we are in firm belief that it should be bountiful as we welcome the new year because it means bountiful blessing for the whole year.