Obanyaki
This is another Japanese delicacy which is also very popular in Taiwan- pretty much like taiyaki but this one is cooked in a round mold. Pancake batter is poured on all four cavities- about half full to give room to the filling then when they're half done, the unfilled ones are released to put on top of the filled ones hence a pancake sandwich is made. Just like dorayaki but in a mold. And while I was looking at our shelves with all our cooking utensils, I saw our mini burger press and it just dawned on me- I could use it for obanyaki!
I already made a big bowl of sweet red beans earlier so all I need to do is make the batter which is a breeze.
Someone "whispered" match tea batter in my ear and I can only acquiesce. Besides, matcha tea and red beans just go well together- even the colors complement each other.
I used my matcha tea dorayaki recipe for the
batter
.
It was a real easy process except for the cooking part. This is one exercise which is done in a slow mode so I have to move the pan back and forth over low fire-slow and low.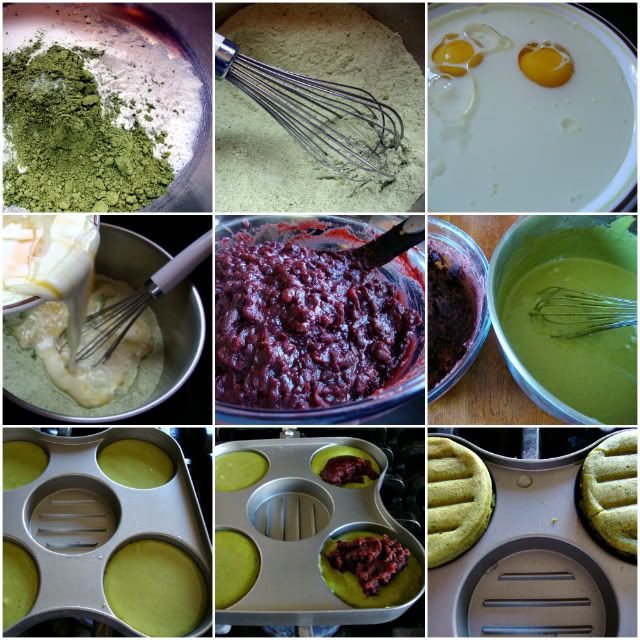 I have to be honest- it wasn't smooth sailing as the first batch is a semi fail; because I put too much of everything. Too much batter and too much filling!
So it was difficult to release/scoop from the cavities :-(
The cooking process took longer and a not-so-pretty result!:-(
So adjustment was made and there was improvement! :-)
With better results! :-)
I still want a real obanyaki mold! And yes--- with Hello Kitty face :-)