Grilled Lamb Chops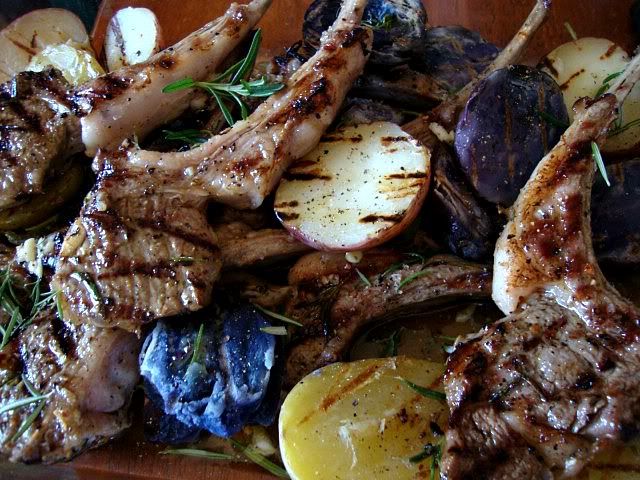 It has been on my to-cook list for quite a while but never gotten around it. In such case, it needs a little push to materialize- another situation like K texting me and asked what she should marinate her lamb chops in.
Whenever she asks me for recipes, more often than not, she brings me a sample the next day. I must admit I kind of hoped she would. Not this time. Well, she didn't make it that same day she asked and she opted to use another recipe which uses almost the same ingredients as mine. That left me with craving triggered by that familiar curiosity over untasted/unsampled food.
I have a lot planned for the weekend but lamb chops had to take precedence over everything else because someone else is also craving for it. It was a simple marinade of olive oil, crushed garlic, kosher salt, freshly cracked black pepper and fresh rosemary and thyme with lemon juice that I used for the rack of lamb. Hmm why are these chops so small? I had to trim down the fat and they got even smaller!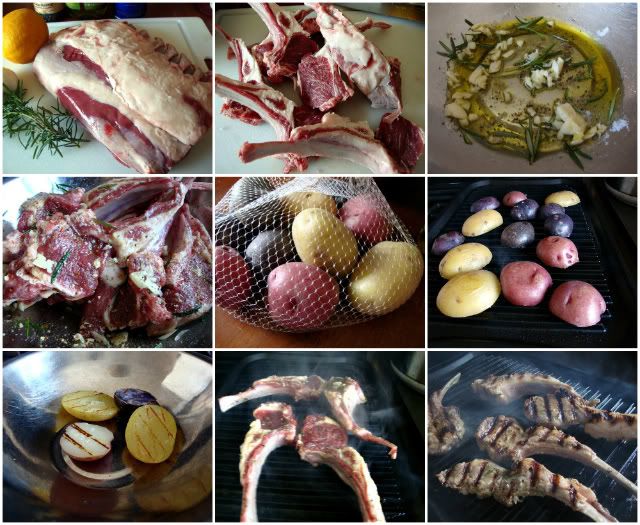 Grilled Lamb Chops and Potato Medley
Ingredients
3 large garlic cloves, crushed
1 tablespoon fresh rosemary leaves
1 teaspoon fresh thyme leaves
sea salt
2 tbsp extra-virgin olive oil
8 lamb chops
juice of half a lemon
Directions:
Pulse the garlic, rosemary, thyme, cayenne, and salt in a food processor.
Pour in olive oil and pulse into a paste.
Rub the paste on both sides of the lamb chops and let them marinate for at least an hour. (I did not process the marinade into a paste, just whisked the ingredients together and then added the lemon juice fifteen minutes before grilling)
Meanwhile, cut the potatoes in half and boil in salted water for about 12 minutes or until tender. Drain in a colander, set aside.
Heat a grill pan over high heat until almost smoking, add the potatoes and sear just to get that beautiful grill marks; transfer to another bowl and set aside.
Next sear chops three minutes on each side.
Transfer the chops and the potatoes into a baking dish and cook for ten minutes at 400 degree F preheated oven. Remove the dish from the oven. Cover with aluminum foil and let it stand for 10 minutes before eating.
I must say I never tasted lamb this good. Maybe it's because I don't really eat lamb that often so the rarity of the occasion makes the dish more exciting. The meat is super tender; melt in your mouth delicious and the potatoes are perfect! You haven't seen enough of my lamb because tomorrow, it's Kabobs Day!