Baked Blueberry Pancake
I know... I've been slacking again. I just don't have enough time to update my blog or simply unable to do so. The cooking/baking part I can still squeeze into my busy sked then I would start my post after taking pictures and freeze- I just can't seem to finish it. I'd be just so tired after a day's work. It's been a mad mad March at work. But I'm doing my best to make up for my absence and still in the process of finishing my saved posts so good luck to me!
This is just a quickie- found really nice blueberries at TJ's yesterday and I thought I'd bake myself a pancake. I've made a
similar
one in the past using raspberries.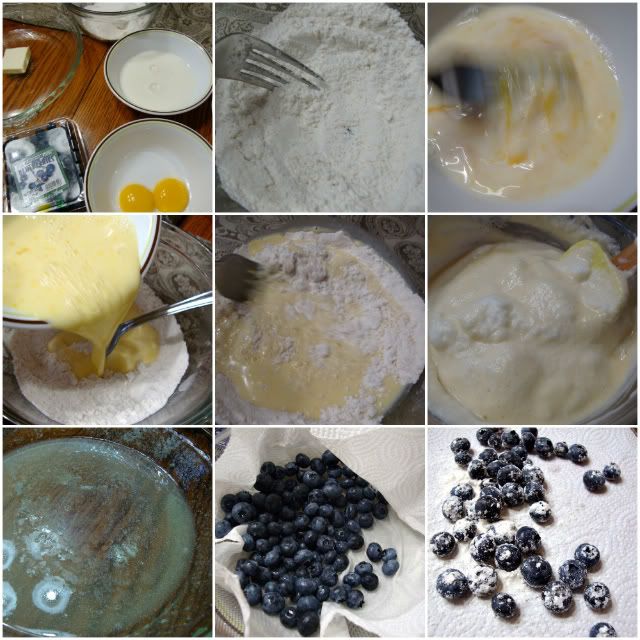 This is just the lightest, fluffiest, most tender and yummy pancake ever. Ha ha ha ... I say the same thing about my other pancakes and with valid reason
(modesty out the window).
Here's the recipe:
Baked Blueberry Pancake
Ingredients:
2 extra large eggs, separated
1/2 cup all-purpose flour + 1 tbsp for the blueberries
1/2 cup milk
3/4 tsp baking powder
2 tbsp granulated sugar
1 tbsp unsalted butter
20-25 pieces (or more) fresh blueberries - washed, gently patted dry in paper towels
powdered sugar for dusting
maple syrup (optional)
Method:
Preheat oven to 400 degrees F
Place 1 tbsp unsalted butter in the middle of a pie dish and allow to melt
Beat the egg whites until stiff, set aside
Mix together egg yolks, flour, baking powder, sugar and milk
Fold in egg whites into the batter
Remove the pie dish from the oven and pour the batter
Arrange the berries on top (sprinkled with flour to avoid sinking to the bottom of the pan)
Bake for 25 minutes or until top is light golden
Remove from the oven and sprinkle with powdered sugar before serving
Delicious with maple syrup as well