Tuna Turnover
Stocking up or hoarding cooking and baking ingredients has its rewards too. Just like today when I had a sudden craving for a flaky tuna turnover filled with creamy tuna goodness! It was like finding a treasure when I saw a box of puff pastry sheets in my freezer.
That means I'll have the yummy turnover on my plate quicker than I thought. I have all the ingredients so all I need to do is whip up my filling. This is going to be a breeze!
Tuna Turnover
Yields 8
1 box of puff pastry sheets
1 egg - beaten
Filling:
2 cans tuna in water, drained
1 tsp onion powder
1 tbsp lemon juice
3 tbsp mayo
2 tbsp honey Dijon mustard
1 tbsp sriracha sauce
¼ pkg cream cheese, softened
1 tsp sugar
Procedure:
1. Line a baking sheet with parchment paper. Pre-heat the oven to 375 degree F.
2. In a bowl, mix all the filling ingredients together. Set it aside.
3. Thaw the puff pastry. Dust the work table with some flour. Unfold the pastry and cut into 4 equal squares.
4. Brush the edges of each piece with the beaten egg.
Spoon about two tbsp of filling a little off-center; fold the other half over to close and seal by pressing the edges gently with a fork.
5. Brush the tops with the rest of the beaten egg and bake for 25-30 minutes or until golden brown.
Note:
Halve the recipe if using a single pastry sheet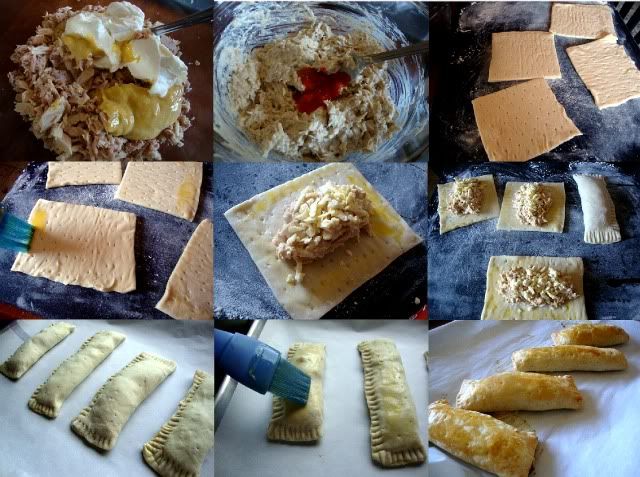 They came out quite different in sizes- maybe I was too excited to get it over and done with? But the taste more than made up for the un-uniform sizes. So delicious and easy to make you won't even think of having store-bought turnover again!