Mango Tres Leches
I found this
recipe
by accident- drawn by the mango swirl topping and the unique ingredients therein. I never tried using whole wheat flour and coconut milk in my tres leches cake despite having done so many in the past. I guess I'm so comfortable with what works for me that I never tried anything new or explore other avenues so I can take it to another level.
Someone gave me a box of ripe mangoes so the timing is perfect to try the recipe. It is always with excitement that I go about prepping my ingredients and this cake is just so as I realized how different it is from the other tres leches I made in the past. It has more ingredients and the procedure involves folding the egg whites to the yolk mixture. No problem, I am comfortable with that. But I was dismayed when I couldn't find coconut milk in the pantry and neither do I have coconut oil. And I hate going out to get additional ingredients while I'm in the midst of something. I mean, I probably would if there are no alternatives. In this case, the two can be easily substituted with something -coconut oil with vegetable oil and half and half in place of coconut milk. I added a couple of drops of coconut flavoring to the milk bath for the coconut flavor so that solves the coconut flavor issue. Still, I had to drop the "Coconut" from the original Coconut Mango Tres Leches since I don't have the two coconut product ingredients.
The recipe requires that I sift the flour a number of times but the holes of my sieve are not small enough so there was no separation between the flour and the bran even as I used two different sieves hoping maybe one has smaller holes than the other.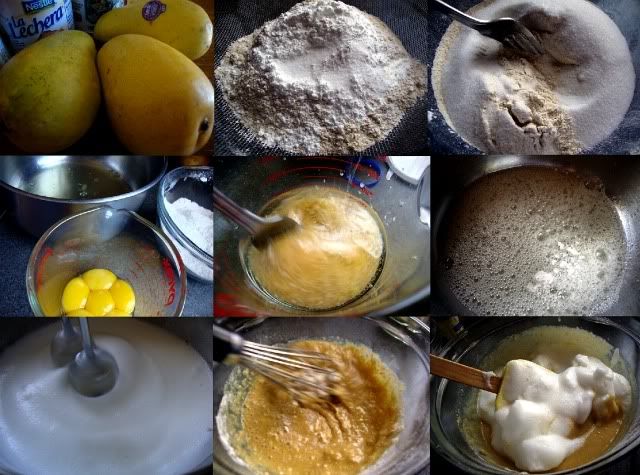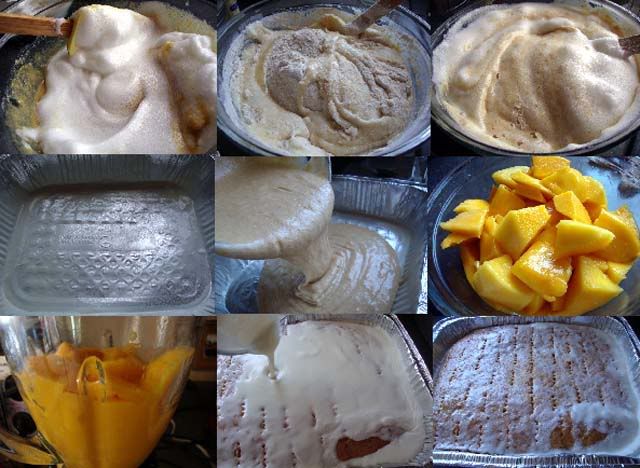 The cake is done in 30 minutes and since I'm not using coconut milk, there was no need to cook the milk bath. There was no instruction in the recipe to poke the cake with fork tines when it's done for easy absorption of the milk bath but I did it just the same. The mango frosting is done the way I normally do so that was easy. Into the freezer it went as all my tres leches cakes in the past went after the milk bath is poured. Whoa... I'm getting near the tasting part. If you're wondering why I freeze my tres leches, you can read my post

Tres Leches

and some other tips to make it more delicious.
The cake is rich and it has a distinct flavor brought about by the whole wheat flour. I guess I'm not used to it but I am glad I used a combination of Indian and Manila mangoes so the mango flavor was strong enough not to be overpowered by the richness of the cake. I wonder how it would taste without the oil and without the bran. I almost forgot- the original recipe has Spanish brandy in it which I omitted. I'll probably make it again with all the original ingredients and again without the oil.
Coconut Mango Tres Leches Cake
adapted from

Cooking In Mexico
1 1/2 cups sifted whole wheat flour*
1/2 cups plus 1/4 cup sugar
2 cups (17 oz./240 grams) cubed mango
1 can (14 oz./397 grams) condensed sweetened milk
1/2 tsp coconut flavoring
Butter a 9-inch-by-13-inch (23 cm. x 33 cm.) baking pan; heat oven to 350 deg. F.
In a medium bowl, sift flour, baking powder and salt. Stir in 1/2 cup sugar.
In a large bowl, stir together egg yolks, vegetable oil, 3 tablespoons whole milk and vanilla.
Beat egg whites until frothy, add cream of tartar. Before peaks form, add 1/4 cup of sugar, 1 tablespoon at a time, beating until slightly stiff.
Whisk half of flour mixture into yolk mixture. Whisk in 1/4 egg whites. Carefully fold in another 1/4 egg whites with a large spatula or balloon whisk.
Sift half of remaining flour mixture into batter, and fold in. Fold in 1/4 egg whites. Fold in remaining flour mixture. Fold in remaining egg white. Do not over-mix.
Spoon batter into prepared pan, smooth top, and bake 25 minutes, or until center tests dry with a wooden toothpick. Poke with fork tines so the milk bath is easily absorbed.
In a blender, mix together whole milk, condensed milk, heavy cream and coconut flavoring. Pour over cake while still warm. Cover and chill cake for at least 3 hours or overnight.
Puree mango in a food processor until smooth. Add additional sugar to taste if the mango is not sweet.
At serving time, whip cream until stiff. Fold in half of mango puree. Spread mango cream over the cake. Spoon remaining puree on top and swirl into whipped cream with a spatula.
I just have to document it- my GP's at home and at work loved it!
It tasted even better the next day when it's really chilled :-)