Shumai my style and all that stuff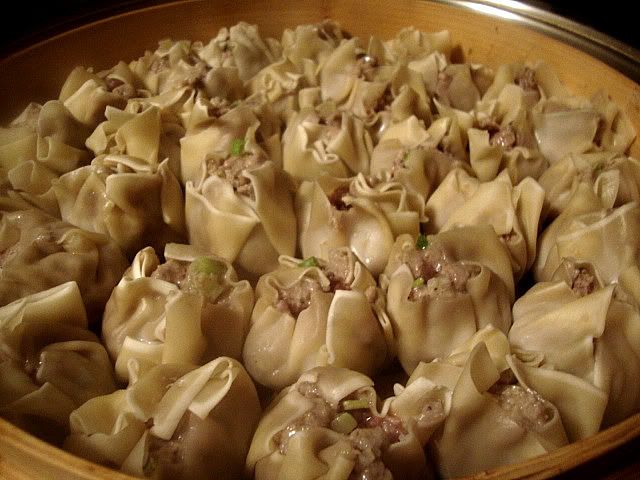 Yesterday's weather is the complete opposite of Friday's – sunny and beautiful then while last night we had our first October rain which started from a steady drizzle when I left home in the morning and developed into the real thing in the evening. Thankfully, I was already home when it poured. But I guess the change of weather was timely because I already have shumai and noodles on my menu board for dinner. Ah, noodles and vegetables in chicken broth is the perfect match for shumai. And in case you don't know what shumai is, it is a traditional Chinese dumpling although I've read somewhere that it originated in Japan. I have to research more on that he he. I always thought it's Chinese though. Anyway, shumai could be a mixture of ground meat and shrimps or just plain meat. Extenders like carrots or peas are also used especially when budget constrained and it's a good thing to have vegetables in it also. What I did is a mixture of ground beef and pork, shallots, garlic, sesame oil, spring onion, rice wine vinegar, Splenda, eggs, cornstarch, salt and pepper and soy sauce. I don't know how many shumais I made but I ran out of wrappers so I decided to make meatball soup with plain misua noodles- no way am I storing extra shumai mix in the fridge.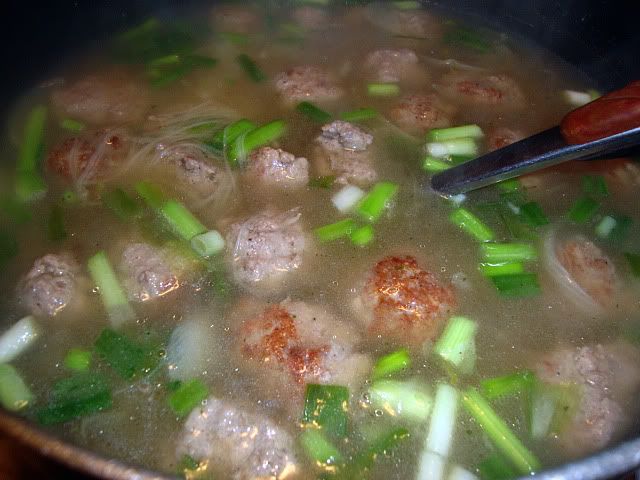 For my dipping sauce, I mixed lemon juice, soy sauce, sambal oelek, Splenda, sesame oil and chopped spring onion. It's amazing how quickly those dumplings disappeared from the table and it's nice to see our soup pot empty for once after a meal.
Soup of the day
The weather today is just a carry-over of yesterday so soup seems to be in order. For dinner, I made chicken noodle soup using spaghetti pasta. I ran out of elbow macaroni and besides, spaghetti is made from the same semolina flour that the elbow macaroni is made of. We have rotisserie chicken which wasn't touched last night because of the shumai so I used that for the soup.
And when I make such soup, Bisquick bibingka can't be far behind. It is just the perfect partner for the chicken noodle soup. We don't have any young coconut to grate but I have cream cheese so it should be okay. It was okay! I almost got tempted with the soft, airy bibingka with cream cheese kind of embossed on top and so inviting but I was able to succeed and had my usual protein shake for dinner. The other part of my foodie self is definitely sated and that's what counts.