Chicken Tikka Masala
I know, it's no longer a case of "it's been a while" and after posting I'm back --- with the intention of being more constant but ...

I accidentally deleted my saved posts which aggravated whatever sad state I was in two weeks ago.

But then after mulling things over, I think it's a blessing in disguise because it gave me the time to really come to terms with another season lost for my homeboys. Now it's time to move on!

So here's one that I made just recently. It is a cross between my chicken biryani and butter chicken. Overall, it has the same delicious layers of flavors which is prevalent in Indian saucy dishes. The ginger-yogurt marinade is key and so is grilling the meat first for that charred taste and then finishing it off in the creamy red curry bath.
Chicken Tikka Masala
adapted from
Aarti's
Marinade:
1 cup plain or Greek yogurt, whisked until smooth
1 tbsp grated fresh ginger
3 cloves garlic, finely minced
Kosher salt and freshly ground black pepper
1 pound boneless, skinless chicken thighs, cut into large bite-size chunks (I used skinless legs)
Ingredients
Sauce:
3 tablespoons butter
2 teaspoons olive oil
6 cloves garlic, minced
2-inch thumb ginger, peeled and minced
2 Serrano pepper, minced (seeds removed if you don't want it spicy)
2 tbsp tomato paste
2 tsp paprika
1 tsp garam masala
8 Roma tomatoes, seeded and diced
1 1/2 teaspoons kosher salt
2 cups water
1/2 cup heavy cream
Fresh cilantro leaves, chopped
For the marinade:
In large bowl, whisk together yogurt, ginger, garlic, salt and black pepper.
Wash and pat the chicken pieces dry then add to the yogurt mix.
Make sure each piece is coated with the marinade- cover with plastic wrap and refrigerate for at least 30 minutes or overnight at the most
For the sauce:
Heat skillet over medium heat and add the butter and olive oil.
Add the garlic, ginger, and Serrano pepper. Saute until lightly browned around the edges.
Add the tomato paste and cook until the tomato has darkened in color.
Add the paprika and garam masala, and saute for about 1 minute to bring out their flavors.
Add the tomatoes, salt, and water. Bring to a boil, then turn down the heat to a simmer, and cover. Cook for 20 minutes. Take the pan off the fire, and allow the sauce to cool. Transfer to a blender or food processor and process until smooth
Meanwhile, place the chicken pieces in a broiler pan covered with aluminum foil or you can opt to grill them just to have the charred exterior.
Pour the sauce back into the pan and bring to a boil.
Add the chicken and reduce heat to a simmer
Cook covered for about 10 minutes. Since I used chicken legs, I had to cook them longer- about 30 minutes
Add heavy cream and stir. Garnish with chopped fresh cilantro and serve with steamed white basmati rice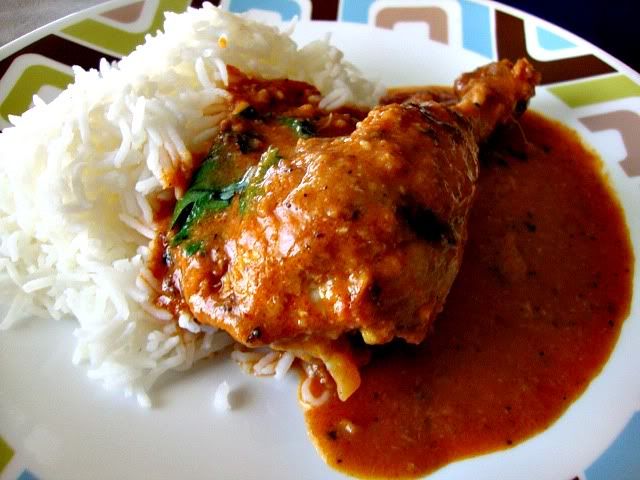 Notes:
Feel free to add another Serrano chili for more heat.
Chicken breast cooks faster but I suggest bone-in chicken breast for more flavor
You can substitute water with low sodium chicken broth