Classic Victoria Sandwich Cake
The best part of coming home (at last!)is reuniting with my desktop computer and watching my favorite cooking shows on the Food Network. I must confess I felt so silly because I was giddy with happiness as I was watching The Best Thing I Ever Ate. Come on, we all have our own idiosyncrasies and I didn't get to watch any cooking show for almost three months. Featured that night are dishes the chefs are thankful for and the one that registered to my mind is the English classic Victoria Sandwich Cake of Tea & Sympathy in New York. Robert Irvine looks so funny while he was munching on a big slice of the sponge cake which is filled with vanilla butter cream and raspberry jam; powdered sugar on his nose and all. He said that's the English way of eating it- not with a fork but holding the piece of cake as you bite into it. How cute!
So I made my very own version. The procedure is to just mix everything in a bowl but I did it the way I make my sponge cakes. I had to omit the butter cream filling and opted for a whipped cream filling with blackberry jam in place of raspberry- not but choice but because of availability. It was easier to make than my other sponge cakes and it cooks in about 22 minutes. It reminded me of the sponge cake I made from Bobby Flay's Ireland. This one uses a lot of butter though while Bobby's uses fresh berries and no butter or oil. I was happy with a slice of this one while Bobby's because it didn't have fat content but the egg yolks is evil because I almost didn't want to share it with anyone- I want it all for myself ha ha...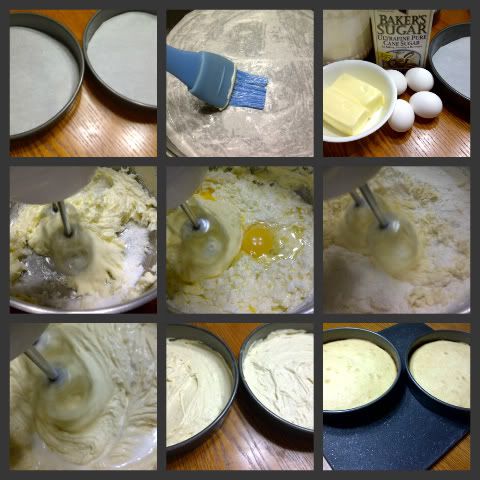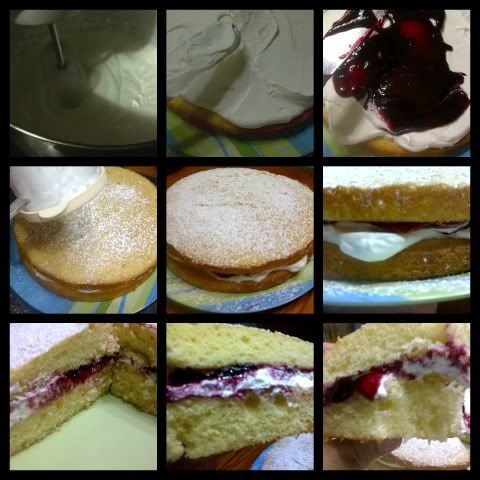 It's not perfectly filled and not evenly layered but Alton Brown said "don't sweat it, perfect is only for the factory". Here's how I made it
Ingredients:
For the sponge cake
1 cup self-rising flour
1 tsp baking powder
4 large eggs
1 cup caster sugar
2 sticks unsalted butter, softened
2 tbsp whole milk
Method:
Preheat oven to 350 degrees F
Butter and line with parchment paper two round baking pans, set aside
Cream butter and caster sugar
Add eggs one at a time and continue beating
Add flour, baking powder and milk still beating
Divide batter between the prepared pans
Smooth the top with a spatula
Bake for 22 minutes
Remove parchment paper and transfer to a cooling rack
For the whipped cream
1 cup heavy cream, well chilled
3 tbsp powdered sugar
1 tsp pure vanilla extract
Whip the heavy cream with sifted powdered sugar in a chilled bowl using a hand or stand up mixer
Add vanilla extract and continue whipping until it reaches a Cool Whip consistency
Spread evenly over one of the cakes
Top with the blueberry jam (may use other jams like strawberry or raspberry)
Place the other cake on top and dust with powdered sugar before slicing.
Enjoy!