Blueberry-Lemon-Yogurt Cake Donut
I was ecstatic when I got my donut cake mold from FG last weekend but was swamped so I didn't get to try it then. Also I was still sort of fixated on one thing- trying to satisfy my mantou infatuation so I can finally move on to other things. And I finally got the chance today. I have fresh blueberries and lemons and some Greek yogurt to have my cake donut premiere. I wish I have another pan though because this one has six cavities only. That didn't deter me from doubling my recipe because I know I need to double my production for my GP's. Thankfully, it only takes 15-18 minutes to bake so waiting is not that painful.
The donuts weren't big or dense because I only filled the cavities three quarters full. I should fill them to the brim next time so I'll get puffed ones like this and I was able to achieve this when I spooned the batter to the pan instead of using the Ziploc bag.
These donuts are no way similar to the fried ones. The texture is muffin-like and it's just the shape that kind of reminds you that it is a donut albeit baked- which is a plus. They came out just the way I imagined and I already have other flavors in mind for my future donuts. Hopefully I can get another pan so I could make more each batch.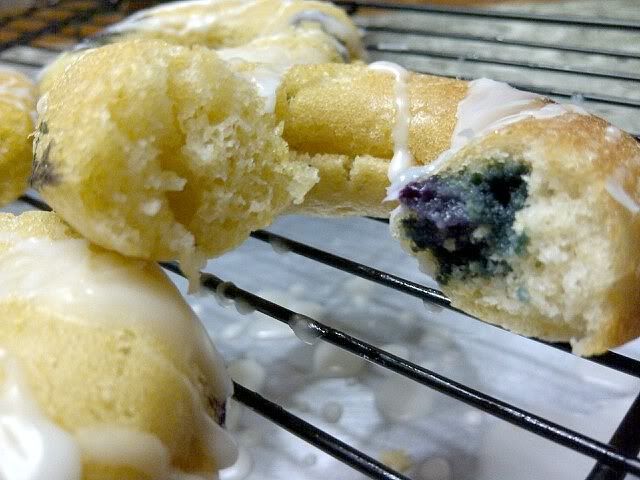 Blueberry-Lemon-Yogurt Cake Donuts
1 cup Fage regular Greek yogurt (any brand will do)
1 cup fresh blueberries sprinkled with 1 tbsp all-purpose flour
Preheat oven to 325º. Lightly grease donut pans with cooking spray or vegetable oil.
In a medium bowl, whisk together flours, sugar, baking powder, baking soda, and salt. Set aside.
In a small bowl, whisk together egg, yogurt, oil, milk and lemon zest. Add to dry ingredients and stir just until combined.
Fold in blueberries gently- avoid crushing so they won't bleed (You can also opt to just add the blueberries on top prior to baking and just push them down gently)
Fill each cavity of the donut pan with the batter using a pastry bag or Ziploc bag with cut out corner to make filling easier
Bake for 15-18 minutes, until a tester inserted into the center comes out clean. Remove from oven and cool for a few minutes in the pans.
Whisk together powdered sugar and lemon juice to create a thin glaze.
Remove donuts from pans and drizzle glaze on warm donuts. Cool on a wire rack.