Simple Arancini
K gave me a bag of Arborio rice last month and since then, I've been planning to make Arancini but just couldn't. Arancini is a Sicilian delicacy which is basically leftover rice formed into balls, dredged in flour, dipped in egg then covered with bread crumbs before frying. It is normally stuffed with cheese and peas although the later versions offer a whole lot of variations of stuffing.
When I made it for the first time, it was a whole lot of steps so I vowed to simplify the recipe and make it more user-friendly. I used Fontina cheese then which I found too rich for my taste and I told myself that I'd use mozzarella the next time I make it. But when I went shopping for cheese, I had a change of heart when my eyes landed on Pepper Jack cheese. I think it is more flavorful and I kind of prefer a little kick. It may not be as gooey as mozza but it melts beautifully as well.
So here's how my simple Arancini came out. I hardly used salt for the rice because my chicken broth is already seasoned. I also skipped the flour and just dipped the balls straight into the beaten eggs before coating with Panko bread crumbs. The result is a crunchy exterior then soft center with creamy cheese with a little spice. Simply delicious!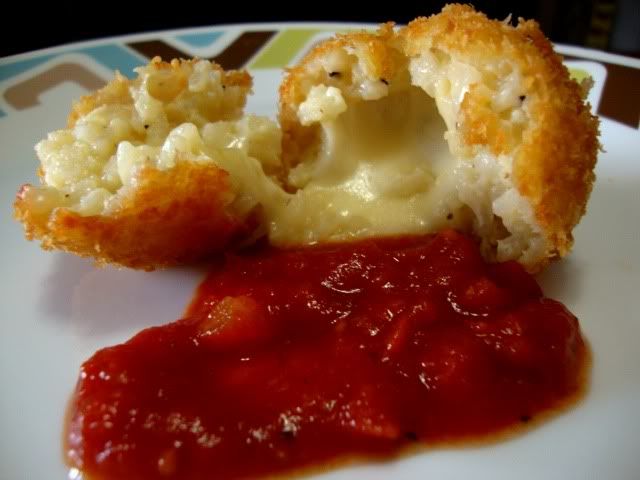 Simple Arancini
Ingredients:
2 cups arborio rice
8 cups chicken broth
2 tablespoons olive oil
2 small shallots, finely chopped
2 tbsp unsalted butter
4 eggs
1 cup Panko breadcrumbs for dredging
1/2 cup Parmigiano-Reggiano cheese
vegetable oil for frying
salt and pepper to taste
Marinara sauce for dipping
fresh basil leaves for garnish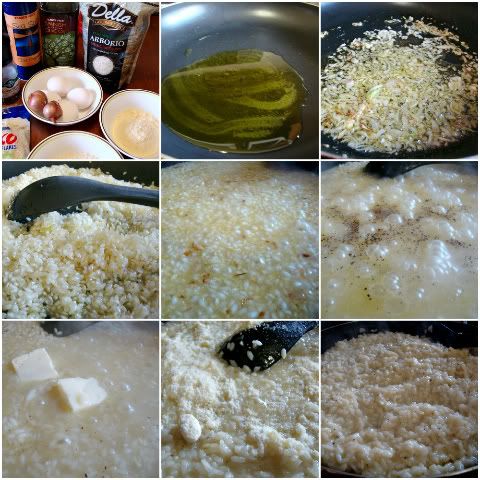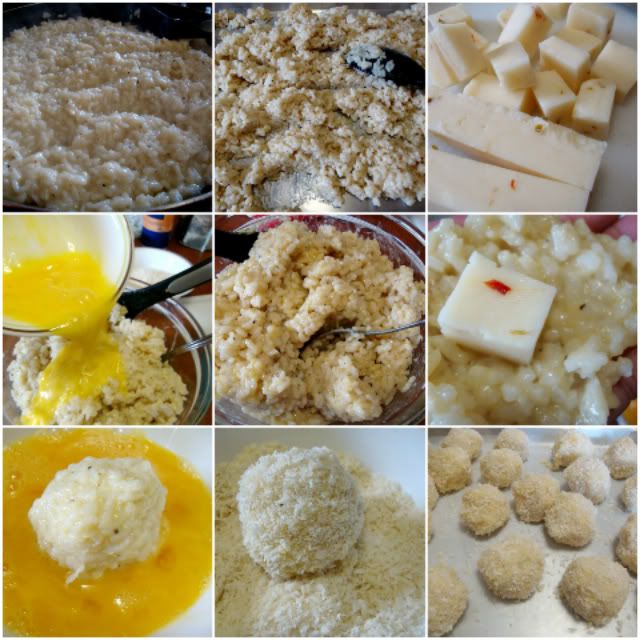 Procedure:
* Heat olive oil in a large saucepan over medium heat.
* Add shallots and cook for about 2 minutes.
* Add rice and stir in for a minute. Gradually add broth and about a cup at a time until all liquid is absorbed and gone. Make sure the broth is very hot. I keep the pot over very low heat.
* Stir in butter, pepper, and cheese. I did not add any salt because the chicken broth is salty enough.
* Transfer the rice into a sheet pan or tray and spread to cool
* Meanwhile, cut the cheese into small cubes, set aside
* Transfer the cooled rice into a mixing bowl and mix in the beaten eggs
* Have the remaining eggs (lightly beaten)and Panko bread crumbs in separate bowls ready
* With clean hands, scoop about two tablespoons rice into the palm of your hand, place piece of cheese in the center then form it into a ball.
* Dip it into the beaten egg then dredge with Panko bread crumbs. I did not use any flour because the eggs helped bind the rice together.
* Fry in small batches (about five balls at a time) in preheated vegetable oil jut until light golden brown.
* Transfer to a wire strainer to drain or use paper towels if you prefer
* Serve with marinara sauce. Enjoy!