Friends, food and cornbread waffles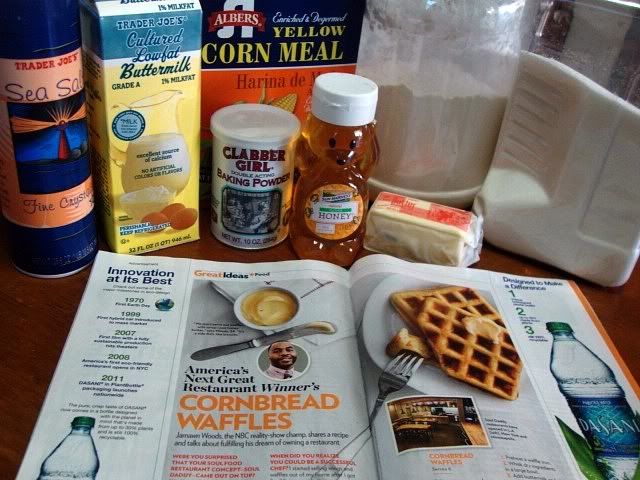 Food is essential in life as in death. We eat to live and then when people die, food is served to those who mourn with the bereaved ones. Food is essential to entertainment. We host parties on birthdays, anniversaries, weddings, graduations and for every momentous occasion in our lives and we deem it right to celebrate. Food is in the midst of it all and will not be successful without it. Food is there during the happy times as well as the bad. And with that said, I see food being at the centerpiece again when Marilyn, a colleague/friend and one of the earlier followers of this humble blog leaves us next week as she transfers to another unit. I feel sad but we should be happy when our friends are going to a better place- better in the sense that her driving woes will soon be over and travel time for her will be shorter.
So we are planning our final breakfast together on her last day. It will be a feast of waffles, crepes, pancakes, eggs, bacon and all the sinful goodness. And as if on cue, I stumbled into a waffle recipe on People magazine. It is the recipe of Jamawn Woods- the recent winner of America's Next Great Restaurant. I did a dry run last night and it was thumbs up on the texture and taste category. The only change I made is heaped the tablespoons of sugar in the batter. I even tossed in some fresh blueberries on some and it was awesome. This recipe uses a combination of cornmeal and all-purpose flour with the first being the dominant one in ratio so it has a cornbread effect and justifiably so because it is called cornbread waffles. So expect this to be on the menu next week.
Cornbread Waffles
Jamawn Woods
(with slight changes to suit my taste)
Ingredients:
1 1/2 cups cornmeal
1 cup all-purpose flour
1 tbsp baking powder
1 tsp salt
3 heaping tbsp sugar
2 1/2 cups buttermilk
1/4 cup vegetable oil
Preheat a waffle iron
Whisk dry ingredients in a large bowl
Add buttermilk and oil and whisk until smooth
Spray the heated waffle iron with cooking spray
Add 2/3 cup batter and cook until crisp and lightly browned- 5 to 6 minutes
Serve warm with honey butter
To make honey butter:
Whisk together 2 tbsp honey and a stick of softened unsalted butter