My version of maple donuts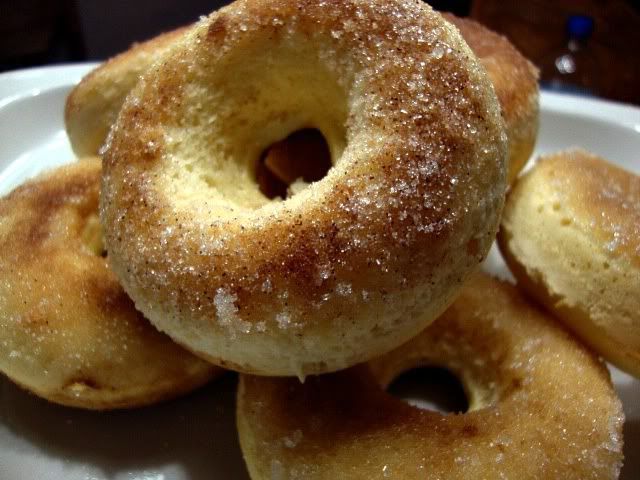 I was just ecstatic last night. Not only did my homeboys win against the Nuggets (ugly but a win is a win!) I just made donuts and I was able to achieve those three categories: pillowy, just rightly sweet and tasty.
Here's the recipe I adapted from Wilton doughnut pan label
Ingredients:
For the batter:
2 cups cake flour, sifted
1/2 cup + 2 tablespoon granulated sugar
2 teaspoons baking powder
1/4 teaspoon nutmeg
3/4 cup buttermilk
2 extra large eggs, lightly beaten
2 tablespoons vegetable oil
Procedure:
Preheat oven to 400 degrees F.
Spray dougnut pans with non-stick coating spray
In a large bowl, sift together all dry ingredients
In another bowl, whisk together all wet ingredients
Add wet ingredients to dry and beat until just combined
Fill each cavity approximately 3/4 full
Bake for 8-10 minutes or until doughnut tops spring back when touched
Let cool in the pan for for 2 minutes before removing and transferring to a rack
Finish doughnuts with cinnamon sugar or chocolate glaze
Cinnamon Sugar
2 tablespoon granulated sugar
1 tablespoon ground cinnamon
2 tablespoons unsalted butter, melted
Stir together sugar and cinnamon.
Dip each dougnut in melted butter then roll in cinnamon sugar
Notes:
I added two drops of LorAnn Oils maple flavoring to the melted butter for a delicious maple-y flavor
Buttermilk did wonders to the batter- made the donuts really tender
Just look at these! I swear, I can't stop eating them! Soft, pillowy, tasty and none of that greasy after taste in the mouth simply because they are baked!
They're smaller than the donut shop-bought ones so one is not really enough :-)