Mille Crepe Cake
Mille Crepe- a thousand crepes it translates to but the fact is- it is a stack of but twenty or so crepes and each layer is filled with pastry or any sweet cream concoction.
I saw it first on 3D or Diners, Drive-ins and Dives and I knew somehow that we will get to know each other in the future because I will be making one-- or some depending on the outcome of the first. But I need a real crepe pan or something that works like one. I want something in between what I have at home (small and large) which are mere non-stick pans. A bigger, probably a ten-inch pan to yield bigger crepes is what I need so I can come up with a good sized cake.
And so the hunt began at Smart & Final- I had to shop there for other stuff and would have wanted that to be a one-stop thing but no luck there. Second stop- Albertson's and I found one that fits my need. I grabbed one and was ready to leave when I saw another pan in white which is much better because it has a flat bottom, no curve at all and if it was an inch shorter, I could very well call it a crepe pan instead of sauté pan like it says in the label. And it's a little bit cheaper too.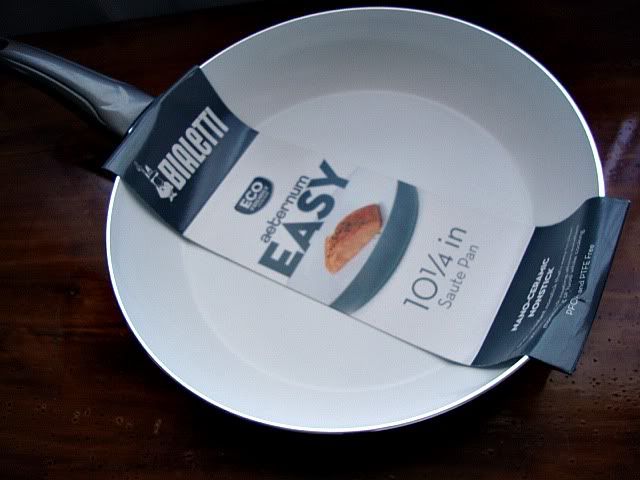 And I forgot to mention that I already prepared my batter and pastry cream before I even ventured out in search of a pan.
1 1/2 cups all purpose flour
2 tsp pure vanilla extract
Pulse together all the ingredients in a blender until you have a smooth batter
Transfer the batter into a bowl and refrigerate covered for an hour
Brush crepe pan or a non-stick pan with canola oil. You only have to do this once
Pour 1/2 cup batter in the pan and swirl around to coat evenly. Pour remaining batter back to the bowl
Cook one side for 2-3 minutes
Lift the crepe with a spatula and flip. Cook for 20 seconds
Transfer each crepe into kitchen towels to cool. I used parchment paper.
Repeat the process till you have made all 20 or so crepes
For the vanilla pastry cream:
I should mention that this requires a little bit more work but the result is a silky smooth buttery cream ... yum yum ...
1/3 cup cornstarch, sifted
Bring the milk to a boil. Turn off the heat and stir in the vanilla extract then set aside for 10 minutes. Fill a large bowl with ice and set aside a small bowl that can hold the finished pastry cream and be placed in this ice bath.
In a medium heavy-bottomed pan, whisk together the egg yolks, sugar and cornstarch. Gradually whisk in the hot milk, then place pan over high heat and bring to a boil, whisking vigorously for 1 to 2 minutes. Press the pastry cream through a fine-meshed sieve into the small bowl. Set the bowl in the ice bath and stir until the temperature reaches 140 degrees on an instant-read thermometer. Stir in the butter. When completely cool, cover and refrigerate.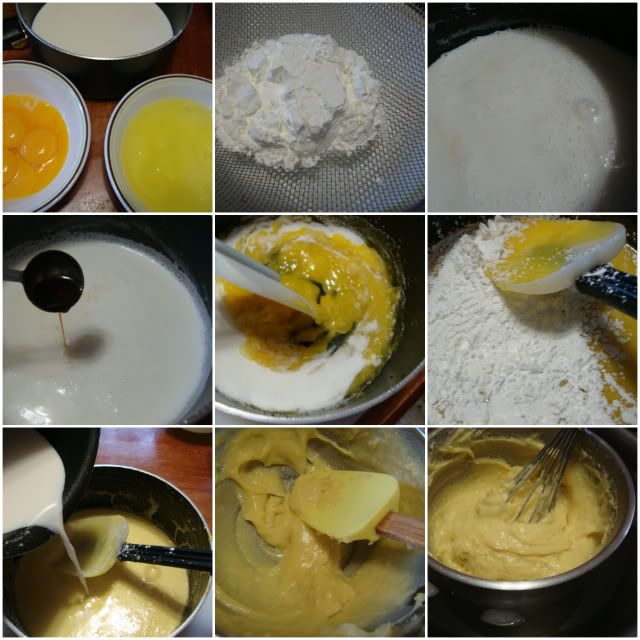 3 tablespoons juice from maraschino cherries jar
Whip the heavy cream with the tablespoon sugar and the maraschino cherry juice.
Fold it into the pastry cream.
Lay 1 crepe on a cake plate. Using an icing spatula, completely cover with a thin layer of pastry cream (about 1/4 cup). Cover with a crepe and repeat to make a stack of 20, with the best-looking crepe on top. Chill for at least 2 hours. Set out for 30 minutes before serving. If you have a blowtorch for creme brulee, sprinkle the top crepe with 2 tablespoons sugar and caramelize with the torch; otherwise, dust with confectioners' sugar. Slice like a cake.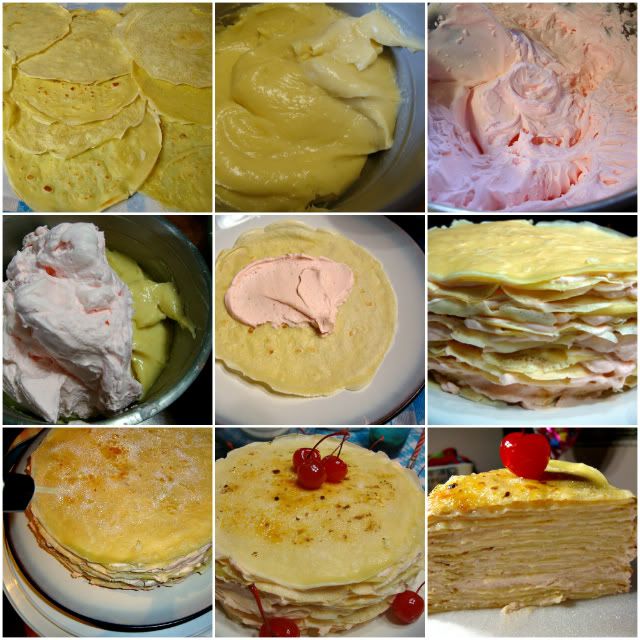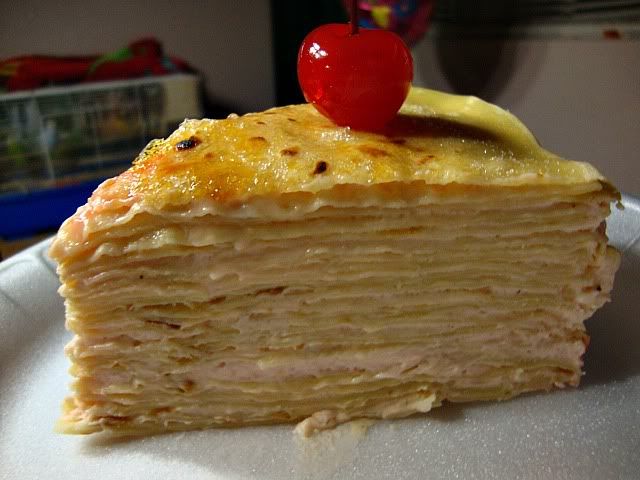 The recipe calls for Kirsch but I didn't have it so I just used the juice from the bottled maraschino cherries to give the pastry cream a hint of cherry flavor and hence the pink color.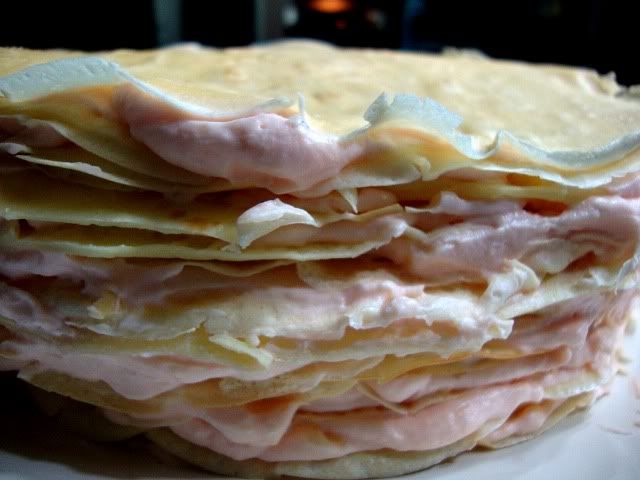 Making the crepes seemed tedious and my excitement kept building while I did my count. I could hardly wait till I get to the 20th so I can go to the next level which is the assembling part. But I ended up with twenty one. Why? Because I doubled my recipe with the intention of making two cakes but because I wasted some batter on the first one, I was short and had to get an extra cup from the other bowl and I somehow ended up with an extra crepe. Now I'm wondering why I had to do that. It's not like it's written in stone that it has to be 20 pieces of crepes ha ha ha....
The filling has the perfect consistency and I didn't have any problem spreading it on top of the crepes. All the hard work is rewarded when I cut the cake and saw how it looks inside. My cake was all even, it wasn't sloping or leaning or anything. I should give credit to my new pan because the crepes came out perfect. My only regret is that I didn't get to taste it.
Need I say a repeat is in the offing? My mind is brimming with luscious filling ideas...