Matcha Tea Angel Food Cake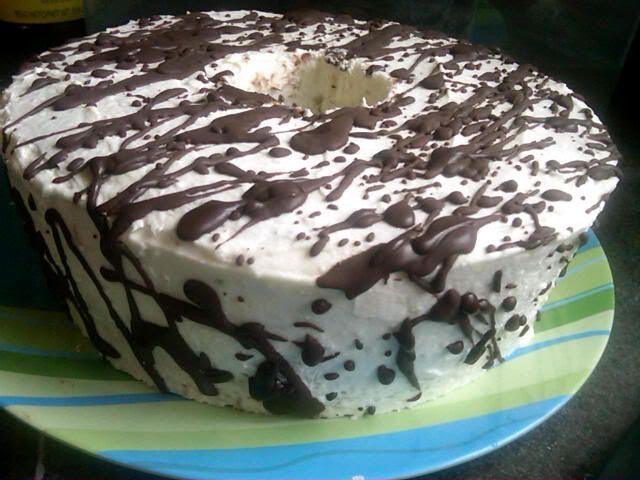 Just when I thought I've used every possible flavor I can to make angel food cake, I got matcha or green tea from my new co-worker and realized I haven't done one in tea flavor. So even as I initially thought about dorayaki or taiyaki with red bean filling, waffles with dark chocolate chips and green tea ice cream, I opted to make my favorite angel food cake. Right away my mind took me to that special place which is the kitchen and I was sitting on the chair and in front of me was a big slab of matcha angel food cake with white creamy filling and frosting with dark chocolate glaze.
It was some sort of a dream scene that's so easy to turn into reality which I did yesterday and finished today- the cake making first and then jazzing it up for the final act. I used again my basic angel cake recipe with the addition of two tablespoons of the pricey powder.
The result is just wonderful, the cake is tender and moist with just a subtle matcha tea flavor. I think half a tablespoon more of the powder will make it perfect. The cream frosting and filling which part heavy cream-part cream cheese plus powdered sugar for sweetness gave the cake the matcha tea with cream flavor. I thought the cake looked so plain so I made dark chocolate ganache and drizzled some over. Then, the "dream" really turned into reality!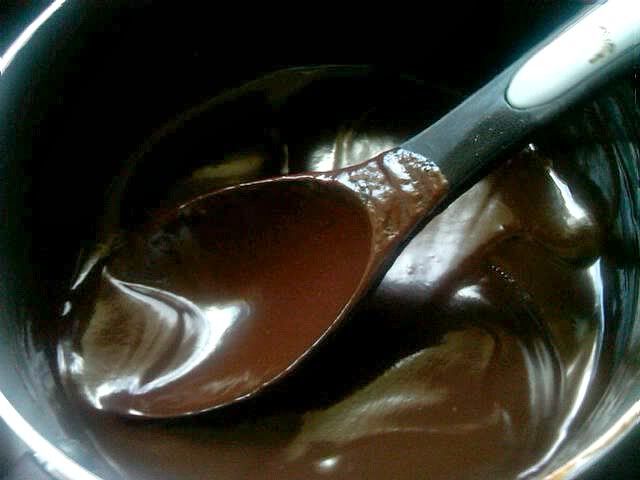 It's funny coz' after I took pictures, I sent some to Karen (she gave me the green tea powder) and she told me she was baking too! Guess what- the same thing! I gave her my angel food cake recipe last Friday so she tried making it herself. Her cake was successful but she had a little issue with her frosting which turned into sauce. She said her friends love it and that's what's important. Besides, it's her first time to make an angel food cake and that was a nice first try.
I'm just happy to be able to share my recipe although I forgot to save her a piece of what I made so she can sample it. I guess I have to make something to make up for it. Here's how to make it.
Matcha Angel Food Cake with Cream Cheese Frosting and Chocolate Ganache GlazeIngredients: For the cake
1 ¾ cup egg whites, room temp
1 cup cake flour
1 tbsp warm water
1 cup caster sugar, divided
1 tsp cream of tartar
¼ tsp salt
1 tsp pure vanilla extract
2 tbsp matcha (Japanese green tea) powder
For the filling and frosting
1 pkg cream cheese, softened
½ cup confectioner's sugar
1 cup heavy cream
For the ganache
¼ cup chopped dark chocolate
2 tbsp unsalted butter
¼ cup heavy cream
Procedure
Preheat oven to 325F.
In a small bowl, whisk and sift together (4 times) ½ cup caster sugar, matcha tea powder and the cake flour-set aside.
Beat egg whites until frothy, then add warm water, cream of tartar and salt.
Beat until fully incorporated then begin to add the remaining ½ cup of sugar 1-2 tablespoons at a time.
Continue beating the egg whites to soft peaks (achieved when the egg whites look like soft waves and the peaks should drop back down into the batter when you lift the beaters. If the batter is falling in ribbons, it's not ready. Do not beat all the way to stiff peaks though.
Add the vanilla extract and beat for a few seconds more till evenly distributed.
Sift the flour/matcha tea/sugar mixture over the rest of the egg whites in 6-8 additions and gently fold it in after each addition.
Transfer into an un-greased spring form pan and smooth the top with a spatula. Gently tap pan on the counter top to ensure that there are no large bubbles lurking beneath the surface.
Bake for 35-40 minutes or until the top springs back when lightly pressed.
Allow to cool completely and gently run a thin knife around the sides, then around the bottom, of the pan to release the cake.
To make the frosting/filling
Place the heavy whipping cream in the freezer. It's easier to whip when it's very very cold and near freezing temp
Whisk together cream cheese and powdered sugar until smooth
Add the heavy cream and whip with an electric mixer until creamy
Chill well to firm up before using
To make the chocolate ganache
Using a double boiler, melt butter and chocolate together stirring constantly
Add the heavy cream when chocolate is fully melted
Stir continuously until smooth and glossy
Frosting/Filling/Assembling the cake
With a serrated knife, cut the cake in two
Spread the prepared frosting/filling evenly on the bottom part
Top with the other half of the cake
Frost the cake all over
Drizzle with the chocolate ganache (I used my wire whisk)
Refrigerate before slicing with a serrated knife to serve
Notes:
Slice the cake in a sawing motion/fashion
Freezing the cake right from the oven makes the cake more moist and tender and makes it easier to slice and frost