Banana-Nutella Angel Food Cake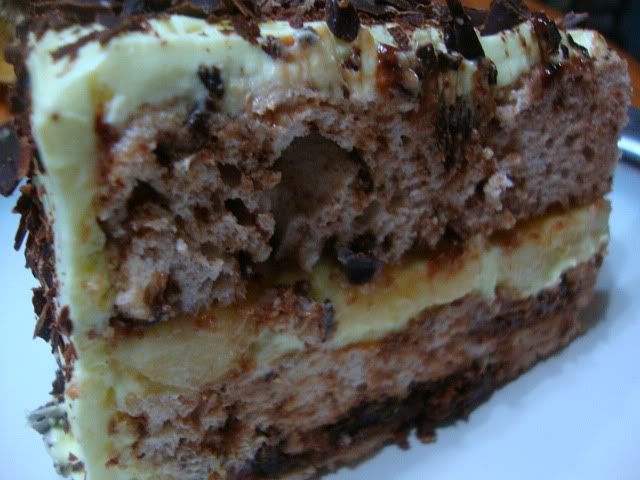 I didn't realize how much I missed making angel food cake till last Saturday. The heat was a beast but it didn't stop me from baking. I made two Nutella-inspired cakes which I didn't even get the chance to really enjoy. The first one was a birthday gift which I couldn't touch/sample. For that I made a banana crème frosting which are cream cheese, powdered sugar and banana extract. The second one has the works- fresh bananas over cream cheese plus heavy cream plus powdered sugar equals frosting & filling and grated dark chocolate sprinkled all over. The grated dark chocolate was to compensate for all the sugar that I cut down too much. The result was excellent! I was happy that the cake vanished too fast felt bad because I only had a slice of the cake. This certainly deserves an encore- not just for me but for my beloved GP's :-)
So here's how I made it. I used my basic angel food cake recipe with minor changes. I even skipped taking pictures of some steps since I posted the same in my other angel food cake creations.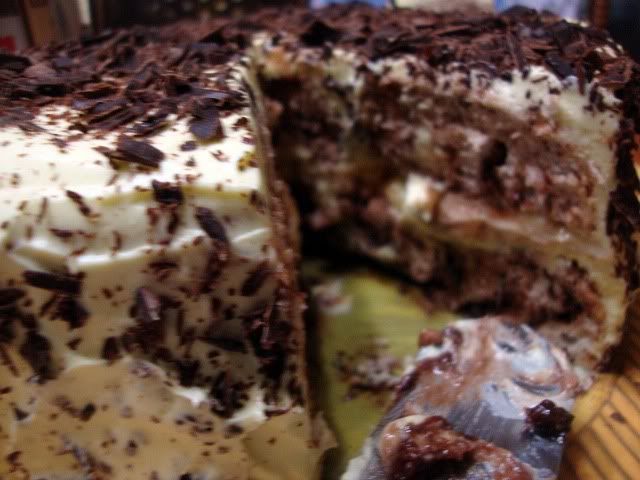 Banana-Nutella Angel Food Cake
Ingredients:
For the cake
1 ¾ cup egg whites, room temp
1 cup cake flour
1 cup caster sugar, divided
1 ¼ tsp cream of tartar
¼ tsp salt
1 tsp pure vanilla extract
6 heaping tbsp Nutella spread
For the filling and frosting
3 large ripe bananas, sliced thinly (squeeze the juice of half a lemon on top to prevent from browning and just lightly toss to coat)
1 pkg cream cheese, softened
½ cup confectioner's sugar
1 cup heavy cream
grated dark chocolate (for garnish)
Procedure:
Preheat oven to 325F.
In a small bowl, whisk and sift together (4 times) ½ cup sugar and the cake flour-set aside.
Beat egg whites until frothy, then add cream of tartar and salt.
Beat until fully incorporated then begin to add the remaining ½ cup of sugar 1-2 tablespoons at a time.
Continue beating the egg whites to soft peaks (achieved when the egg whites look like soft waves and the peaks should drop back down into the batter when you lift the beaters. If the batter is falling in ribbons, it's not ready. Do not beat all the way to stiff peaks though.
Add the vanilla extract and beat for a few seconds more till evenly distributed.
Scoop one heaping cup of the egg whites and fold into the Nutella spread, set aside.
Sift the flour/sugar mixture over the rest of the egg whites in 6-8 additions and gently fold it in after each addition.
Lastly, fold the Nutella-egg white mixture into the cake batter.
Transfer into an un-greased spring form pan and smooth the top with a spatula. Gently tap pan on the counter top to ensure that there are no large bubbles lurking beneath the surface.
Bake for 35-40 minutes or until the top springs back when lightly pressed.
Allow to cool completely and gently run a thin knife around the sides, then around the bottom, of the pan to release the cake.
To make the frosting/filling
Place the heavy whipping cream in the freezer. It's easier to whip when it's very very cold and near freezing temp
Whisk together cream cheese and powdered sugar until smooth
Add the heavy cream and whip with an electric mixer until creamy
Chill well to firm up before using
Frosting/Filling/Assembling the cake
With a serrated knife, cut the cake in two
Spread the prepared frosting/filling evenly on the bottom part
Arrange the banana slices on top nicely
Top with the other half of the cake
Frost the cake all over
Sprinkle with grated dark chocolate
Refrigerate before slicing with a serrated knife to serve
Notes:
Slice the cake in a sawing motion/fashion
Freezing the cake right from the oven makes the cake more moist and tender and makes it easier to slice and frost