Lamingtons updated
This is only the third time I made this delicacy and so far it tasted like the first time I made it. The update came about in simplifying the recipe which yielded the same result (thankfully!) anyway. The original recipe which I used required three types of flour and some grade A chocolate and cream for the ganache icing. This is how I updated it: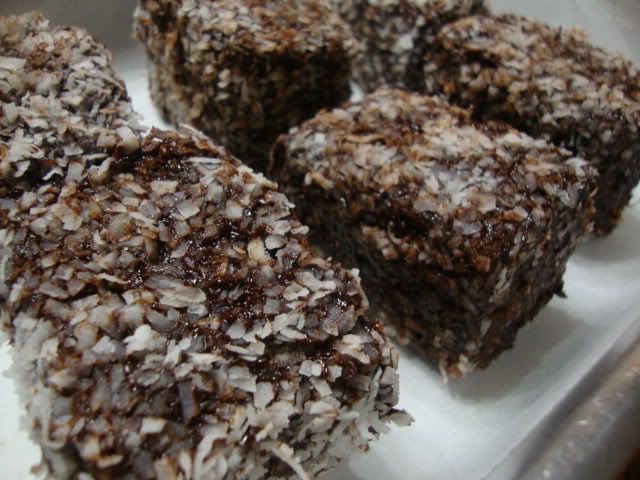 Lamingtons
Ingredients:
For the sponge cake
2 ¾ cups cake flour
2 tsp baking powder
1 ¼ cup caster sugar
2 tsp pure vanilla extract
1 tsp kosher salt
4 extra large eggs
1 cup 2% fat milk
2 sticks unsalted butter, softened
4 cups unsweetened desiccated coconut
strawberry jam or preserves
For the ganache icing
16 oz dark chocolate
½ cup 2% fat milk
Prcedure:
Preheat oven to 325 degrees F
Line two rectangular pans with parchment paper. Brush the parchment paper with butter then set aside.
Pulse the desiccated coconut in a blender for smaller flakes
Sift together flour, baking powder and kosher salt (I did it twice)
Using an electric mixer, cream together butter and sifted caster sugar
Add eggs one at a time followed by vanilla extract and continue beating until smooth
Add flour mixture alternating with milk in three additions
Continue beating until fully incorporated but do not overbeat
Divide the batter in the prepared pans and smooth the tops with a spatula
Bake in the preheated oven for 30 minutes or until toothpick comes out clean when inserted in the middle of the pan
Remove from pans transfer to cooling racks to cool completely before assembly
Ganache icing:
In a double boiler, melt the dark chocolate which has been broken to pieces
Add the milk and stir continuously until creamy, set aside
To assemble the cake:
Remove parchment paper from the sponge cakes
Spread one cake with strawberry jam or preserve evenly
Top with the remaining sponge cake
Cut the sandwich cake evenly into squares or rectangles
Dip each piece into the chocolate ganache using two forks and roll into the prepared grated coconut so all sides are coated then transfer to the rack.
Repeat the same to the remaining cake sandwich pieces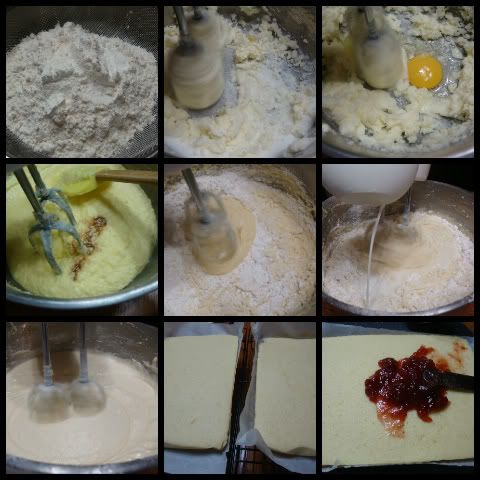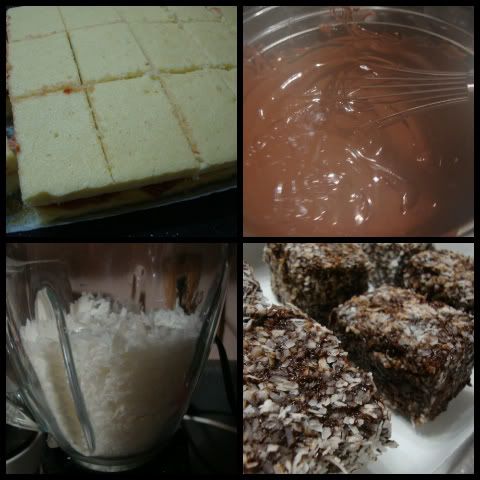 Notes:
This is actually a tea cake but it's not against the law to enjoy this cake with coffee as well so feel free to do so or with any other drink :-)
Refrigerate the cake first for better frosting
Lining up the sandwich cake pieces in a rack then pouring the chocolate ganache on top is also an option. Make sure you have a tray under the rack to catch the drippings